Fashion Designing Course Available
Note: Another discounted package is also available  for 6 month and 1 year.
Morning & Evening  Classes
Fashion Designing Course Details
Rs. 15,000/-
Rs.9,000/-     on lump sum
Duration: 3 Months
Installments: Not Available
Class Per Week: 6
Weekend Course: Available
Next Class Expected: 2-Dec-2019
Program Overview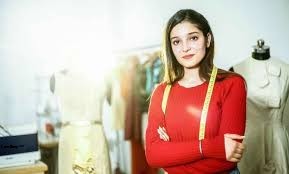 Fashion design industry, over the years, has grown into a profitable profession. The degree program focuses on the balance between the conceptual and industry related fashion design through research and development of innovative and creative fashion design practices. The challenging and engaging studio based projects help participants to explore and gain multi-layered global experience with academics and key industry figures. The creative studio environment will encourage the students to think critically and develop their own design signature style.
Program Objectives
The program focuses on core objectives of providing the students with an integrated understanding and specialist perspective on the application of culture and professional practice in the fashion design industry. Throughout the diploma course, the students are challenged to test their abilities from concept development to final execution of their design. Subjects like fashion illustrations, pattern making and cutting, sewing and stitching help participants to learn creative ways of developing their unique style in the field of fashion design. We aim to produce graduates who are creative, imaginative, innovative, versatile and competitive. This aim is achieved by:
Producing students who have acquired theoretical and practical knowledge of the fashion industry
Producing students with critical and analytical problem-solving skills for the fashion design industry
Preparing students for a broad range of related employment opportunities
Preparing students to show aesthetics and functionality at every phase of design sampling, marketing and merchandizing
Preparing students for quality research in advanced study related to fashion design discipline
Preparing students to handle and run fashion brands
Career Paths
career paths as fashion designer, product developer, fashion manager, design manager, fashion merchandiser, and fashion brand owner.
Course Outline:
Fashion Drawing/Draw Sketches

Design Development

Colouring And Textiles

Introduction To Measurements

Pattern Making 1

Pattern Making 2

Cutting For Sewing

Sewing

Finishing / Quality Control
     Fashion Designing Class Timing
Classes 6 Days a week (Monday to Saturday)
       Morning Classes
8 am to 9 am
9 am to 10 am
10 am to 11 am
11 am to 12 am
12 am to 1pm

 Break : 1:00- 3:00pm
Evening Classes

3 pm to 4 pm
4 pm to 5 pm
5 pm to 6 pm

6:00 pm- 10:00 pm: Extra class for business man and Govt. employee